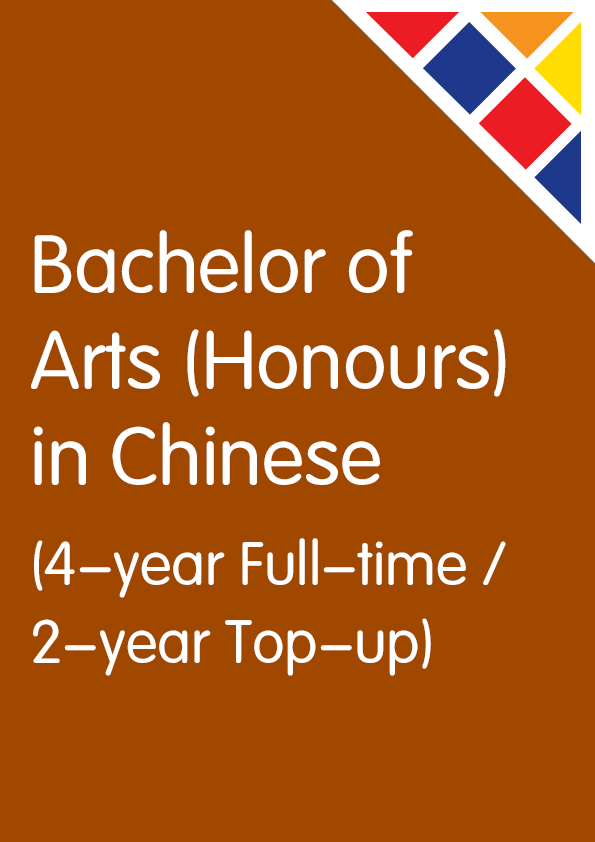 Bachelor of Arts (Honours) in Chinese (4-year Full-time / 2-year Top-up)
Tuition fee: HK $ 71,000 per year (2 installments)
Those who meet the #NMTSS qualification can receive tuition fee remission (the subsidy amount for the 2020/21 school year is HK $ 32,100 per year)



The above tuition fee applies to the entire course (Year 1 to Year 4), only for 2021/22 intake students to apply.





#Students who meet the NMTSS qualification can also apply for loans and assistance from the Working Family and Student Financial Assistance Agency. For details, please visit:

https://www.wfsfaa.gov.hk/sfo/tc/postsecondary/index.htm
Year-1 Entry
HKDSE Qualifications
Obtained Level 3 in Chinese Language and English Language; Level 2 in Mathematics, Liberal Studies and in one Elective subject or one Applied Learning subject in the Hong Kong Diploma of Secondary Education Examination (HKDSE) (33222); OR
Associate Degree / Higher Diploma Qualifications
Obtained an Associate Degree qualification in a discipline which is not relevant to the programme with a cumulative GPA of 2.0 or above and with a GPA of 2.0 or better in Chinese and English subjects; OR
Successfully completed the first year of Associate Degree or Higher Diploma with Cumulative GPA of 2.5 out of 4.0 ; OR
Other Qualifications
Obtained passes in Chinese Language and Culture and Use of English, and one additional Advanced Level (AL) subject or two Advanced Supplementary Level (ASL) subjects in the Hong Kong Advanced Level Examination (HKALE) and obtained 5 passes in the Hong Kong Certificate of Education Examination (HKCEE), including English Language and Chinese Language; OR
Obtained International Baccalaureate (IB) with minimum of 28 points with a Grade 4 or above in English Standard Level of Syllabus (A1, A2 or B) ; OR
Obtained a qualification that meets the admission requirements of a degree programme outside Hong Kong, including applicants from Mainland China who should have evidence of the qualification and pass in English ; OR
Obtained an equivalent qualification.

Year-3 Entry (Top-Up Degree)
Successfully completed an Associate Degree or Higher Diploma programme in relevant discipline with Cumulative GPA of 2.5 or above out of 4.0 ; OR
Obtained an equivalent qualification.
Applicants with the above qualifications are required to have an interview.
Prof. SIN Chow Yiu, Programme Leader
BA, MPhil, PhD. (HKU)
Dean, School of Arts; Head, Department of Chinese

Prof. Sin has taught at HKU for over 37 years and was formerly Hon-Yin and Suet-Fong Chan Endowed Professor and Head of the School of Chinese therein. He is also Honorary Professor at the School of Chinese, HKU; Fellow, The Hong Kong Institute for the Humanities and Social Sciences; Member, Academic Consultative Committee, Institute of Chinese Literature and Philosophy, Academia Sinica; Honorary Research Fellow, Tsinghua University; Honorary Professor, Nankai University; Visiting Professor, Southwest Jiaotong University; Honorary Professor, Northeast Normal University; and Honorary Professor, Xiangtan University.

Research interests: Chinese palaeography, Chinese phonology, excavated Chinese texts and the Zhozhuan.
Prof. ZHAN Bohui - Former Dean, Faculty of Arts, Jinan University, China
Prof. Yeh Kuo-Liang - Former Dean, College of Liberal Arts, National Taiwan University
中文系系主任單周堯教授的話
香港能仁專上學院的中文課程,令你領略學習中文的樂趣,真正學好中文,學會如何破解中文的密碼,開闊胸襟,提升智慧,徹悟人生。

莫言和高行健,為什麼能得到諾貝爾獎?他們的作品有什麼特色?

你和我的思想,都有儒家、道家和佛家的基因,這些基因是什麼?

香港的「香」,為什麼下半是「日」?「尖沙嘴」和「尖沙咀」,哪一個寫法更正確?「落成」的「落」,究竟是什麼意思?「人生自古誰無死,留取丹心照汗青!」可否改寫成「自古人生誰無死……」?如果不可以,為什麼?

來能仁學中文,便能得到正確的答案,而且得到學習中文的真正樂趣。

香港能仁專上學院的中文課程特色如下:

(一)課程內容豐富,應有盡有——本課程內容全面,涵蓋「古代經典」、「古典文學」、「現代文學」、「語言文學」、「專業文書」及「通識教育」六大範疇,共71科,琳瑯滿目,有必修,有副修,有選修,可以充分配合同學的志願與興趣,同學可以自由選擇,按部就班,循序漸進,止於至善。
(二)傳承與創新並重——本課程的設計,一方面繼承中華文化、中國文學、中國學術的優良傳統,一方面尋求創新,力求突破,追求卓越。
(三)學術與實用兼顧——本課程一方面為同學打下堅穩的學術基礎,讓有志進修的同學能繼續攻讀碩士、博士;一方面重視「學以致用」,全力提升學生的寫作能力與普通話水平。學生報考國家語委普通話水平測試,將會得到學院資助。此外,學院每年均安排學生到海外及本地機構實習,以累計職場實戰經驗,務求學生畢業後無論繼續升學或進入社會工作,皆能得心應手。
(四)得到讀書的真樂——鼓勵同學閱讀及欣賞豐富的中國文學寶藏,使他們的心靈得到「美」的滋潤,性情得到「善」的陶冶,並能準確而優美地運用中文。「讀書之樂樂無窮」!如此學習,不亦快哉!
(五)真正的全人教育——透過通識教育,鼓勵學生泛觀博覽,開展胸襟,認識社會,成為自尊自主、有志有為的青年。此外,學院每年均舉辦海外學習計劃,並資助同學參加,讓其足跡遍及英國、台灣、北京、上海及其他地方,以擴闊同學之國際視野。
(六)師資優良,有口皆碑——本課程由香港大學中文學院前主任,被稱為「活字典」的中文專家——單周堯教授策劃及主持,師資優良,有很多來自港大、中大的教授,學養深醇,教學經驗豐富,教學效果卓越。

總之,學中文,來能仁,領略學習中文的真正樂趣。沒有最快樂,只有更快樂!沒有最滿意,只有更滿意!
Upon completion of the Programme, students should be able to:
Read and appreciate the wealth of Chinese literature, grooming them for an aesthetic mind, a benevolent disposition, and the proficiency to use the Chinese language with accuracy and elegance.
Fosters the students' comprehensive ability to apprehend and analyse the Chinese language, characters, literature and culture.
Aspiring to holistic education, the programme embraces a diversified learning experience that rears students to become dignified and contributing members of the society.
The programme is led by Professor Sin Chow-yiu, former Head of the School of Chinese, HKU. Many of our teachers are highly-experienced and prominent scholars from HKU and CUHK.
It offers comprehensive coverage in both academic and application subjects, ranging from Chinese classics, classical literature, modern literature, to linguistics and professional writing. Apart from equipping students with the necessary skills for professional jobs upon graduation, the programme also builds a solid academic foundation on which students can pursue further studies.
Students are eligible to apply for full membership of the Chinese Language Society of Hong Kong.

| | |
| --- | --- |
| The College reserves the right to adjust the curriculum without prior notice. | Last Updated: October 2020 |